Hydrogen emissions in battery charging rooms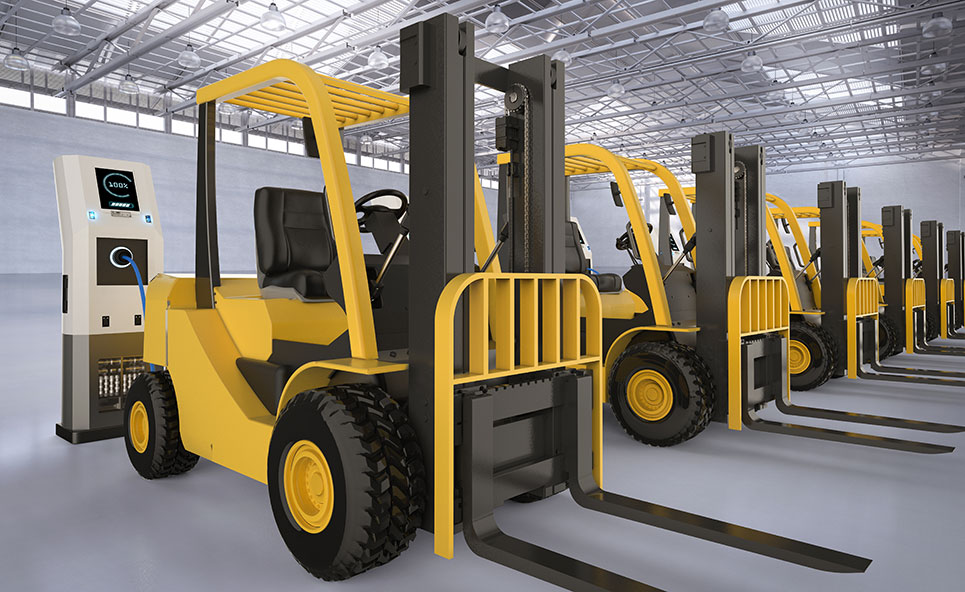 In addition to battery back up rooms and Data centres. Battery rooms that accommodate forklift truck batteries whilst being charged are a potentially dangerous area. Indeed, depending on the battery chemistry used , charging these batteries espcially when from low state of charge can result in the generation of Hydrogen Gas .
When recharging an electric cart battery, The Absorption Cycle where the battery charge voltage is held high and the current gradually reduced can last up to 8 hours. It is mainly at the end of this Absorption Cycle that hydrogen emissions are released. Depending on the equipment, the power of the batteries and charger, as well as the charging environment, this process can generate particularly dangerous concentrations of hydrogen gas in a charging room.
Warehouses , Logistics centres, as well as many production facilities operate all types of electric vehicles such as forklifts, motorized stackers and pallet trucks. Companies with large fleets of these electric vehicles, often have a dedicated battery charging room therefore the risks caused by hydrogen battery release should not be overlooked.
Hydrogen is a highly flammable gas. The lower explosive level (LEL) for Hydrogen as 4% by volume. If sufficient hydrogen collects in a room, it can potentially explode if ignited. The likelihood of this happening depends on the number of batteries, their charge rate, the size of the room, and the ventilation available for the room. Although this may not be a common occurrence, the potential hazard exists with any type of enclosed battery room. This danger can be eliminated by monitoring for a hydrogen build-up, and taking appropriate action if a build up occurs.
Hydrogen is the lighest gas so any leaking Hydrogen will collect in the roof spaces above the batteries / Charging area. Therefore any Gas monitoring sensors should be positioned in these areas to allow the earliest detection of potentially dangerous levels of Hydrogen .
ATEX Hasardous area :
In compliance with ATEX Regulations a large battery backup roon or charging room must be ATEX classified (zone 1 or 2). ATEX zoning implies the presence of an explosive atmosphere requiring maximum precaution. In logistics, handling or production environments, A Large battery room where hydrogen concentrations could reach Combustible levels ( 4% vol for Hydrogen ) would constitute an ATEX zone.
For more information on ATEX Gas Detection and installation click ATEX Explained
Hydrogen Detection System For Battery Rooms
In a battery room, the installation of a hydrogen detection system is essential to ensure personnel and infrastructure safety. One or more ATEX compliant Detector head should be installed in the area where the Hydrogen is most likely to gather .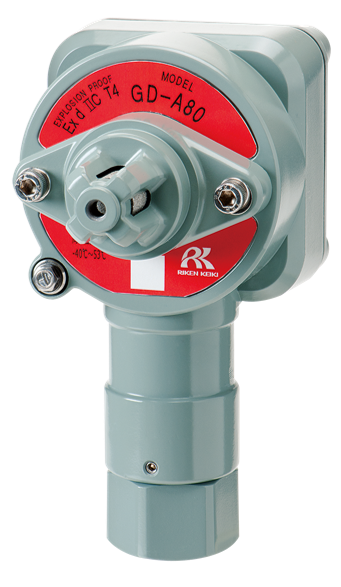 The battery room hydrogen detector and monitor panel
These devices, like the Riken Keiki GD-A80 are ATEX approved and perfectly suited to battery room monitoring appilcations. The GD-A80 uses a Catalytic ccombustion or New Ceramic sensor to constantly monitor the level if Hydrogen in the Detection ( ATEX ) Zone . The measurement range would normally be 0-100% LEL with alarm levels typcailly set at 10% and 20% LEL to give ample warning of a build up of Hydrogen towards the LEL . The battery room Fixed Gas Detector Head(s) would then be connected to a RM-6000 single channel or RM-5000 Multi channel Gas monitor panel . The number of detectors to be installed depends on the size of the area to be covered. The Monitor panel would be installed at ground level outside the ATEX Zone.